Welcome to the SSPI Mid-Atlantic Chapter (US)
Serves: Delaware, Maryland, Virginia, and West Virginia, and the District of Columbia
The SSPI Mid-Atlantic Chapter boasts an energetic and active chapter, with educational and networking events throughout the year. These events support our scholarship program and prize competition, which we hold in partnership with the George Washington University, George Mason University and the University of Maryland.
Next Event: Tour and Reception at the National Electronics Museum (near BWI Airport)
SSPI Mid-Atlantic will host a private tour of the National Electronics Museum in Linthicum Heights, Maryland. The Museum is dedicated to educating the public—especially S.T.E.M. students—on the rich history and evolving electronics technologies used to defend our country and the world.
The tour will focus on the newly-opened permanent exhibit: Satellites: Transforming Our Lives, which showcases how ingrained satellite technology is in our everyday lives, and what the future of satellites' impact could eventually be. It is one of many fascinating exhibits at this "hidden gem" of a museum in our area, which also offers a wide variety of galleries and interactive displays focused on the history and use of electronics in national defense (including radar, countermeasures, and technologies developed during the cold war).
The private event is on Sunday, October 22nd at 3:00 PM. Tickets are on sale now, but sales must close on October 16th to finalize our headcount and prepare for the Happy Hour/Reception afterward. SSPI Members pay $10; Non-members pay $20. College students are free!
Click here for tickets: https://sspi-midatlantic.silkstart.com/events/national-electronics-museum-tour
Learn more about the National Electronics Museum at http://www.nationalelectronicsmuseum.org
SSPI-MA's 2017 Golf Event
The Annual Golf Tournament and Fundraiser was a rousing success on a beautiful day! 
Click here for details and photos. We hope you were able to join in the fun and look forward to seeing you at next year's event!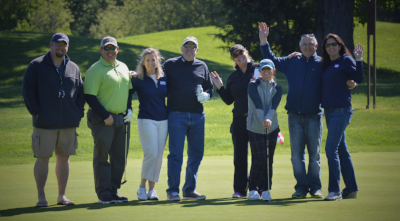 Welcome Our New Executive Board Members!
We're thrilled to have so many new executive-level officers leading the SSPI Mid-Atlantic Board of Directors. Please welcome (L. to R.):
Our new Vice President Charity Weeden (Satellite Industry Association)
Secretary Alena Koci (Inmarsat)
Our returning Treasurer Eileen McGowan (Intelsat), who will continue these duties with Co-Treasurer Kelly Nicklin (XTAR, not pictured).
Our new President, Billie Sims (Hunter Communications)
We look forward to a fantastic program year and hope you can join us.
Our Leadership
President: Billie Sims, Hunter Communications
Vice President: Charity Weeden, Satellite Industry Association
Secretary:  Alena Koci, Inmarsat
Treasurers: Eileen McGowan, Intelsat; Kelly Nicklin, XTAR
Publicity/Communications Chair: Brendan Murray
Membership Chair: Fabien Armogathe, O3B Networks
Scholarship Chair: Christian Wooldridge, Satcom Direct
Programs Co-Chair: Tom Fahy, Capitol Meteorologics
Programs Co-Chair: Arnie Christianson, SES
Immediate Past President:  Pat Rayermann, Semper Fortis Solutions
Directors:
Sallye Clark, Mintz Levin
Dara Panahy, Milbank
Will Gregory, Ultisat
Rashid Neighbors, SES GS

Ed Spitler, Artel

Diego Paldao, SpeedCast
Roya Shambayati, Intelsat
Mark Lekowski, JSAT
Chris Kinman, SES GS
Tim Deaver, SES GS