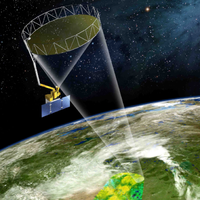 On June 7th, 2018, just before the Washington area tuned its eyes to the Capitals winning their first Stanley Cup, space and satellite professionals in D.C. focused on another topic almost as interesting. SSPI Mid-Atlantic produced another fascinating discussion at World Resources Institute in downtown D.C.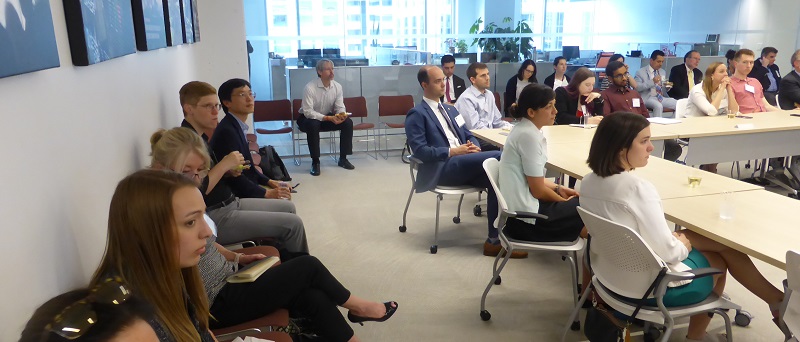 Sponsored by Secure World Foundation and Planet, SSPI members, friends, and students delved into a back and forth on Earth Observation (EO) satellites and data utilization. Participants discussed how EO data is used to make critical decisions, detailing the information chain from satellites, to ground systems, to analysis, to policy, to action.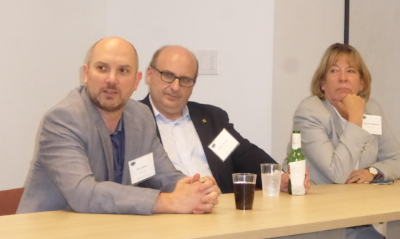 Private EO satellite manufacturer and service provider Planet's VP Government and Regulatory Affairs, Rich Leshner, discussed how Planet is involved with optical imagery, showcasing how their data is relevant to the Secure World Foundation 17 "Sustainable Development Goals" to "support economic growth, improve social inclusion, and advance environmental protection." He highlighted how vital partnerships and cooperation between government organizations and the private sector were, especially as it relates to the need for smooth integration of commercial data and open-source data from government entities such as USGS.

Steven Brumby, Co-Founder and Chief Science Advisor from Descartes Labs, lauded the advances in EO technology and the enormous increase in the amount of data that satellites can provide. But he emphasized that policy-makers are not looking for more pixels, but are looking for answers to their questions. Descartes Labs gathers, scrubs, and calibrates data from multiple satellite imagery sources, both commercial and public. Combining these data with advanced AI software, their goal is eventually to provide continued updated real-time maps of the world, serving as real-time intelligence for multiple sectors such as manufacturing, transportation, forestry, agriculture, and energy.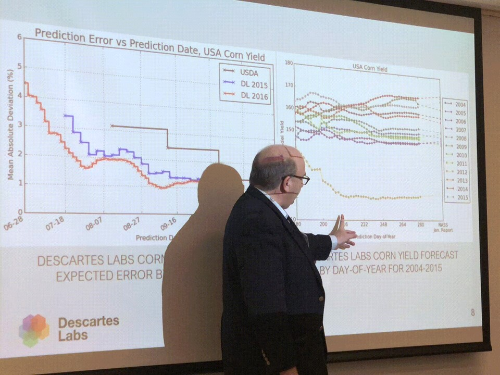 Anne Hale Miglarese, Founder and CEO of the non-profit Radiant Earth spoke to the mission of using EO data to do field searches for various companies and NGOs. Stressing the need for open data, open standards, open source code, and open innovation, she gave examples of how their data sets were used to target specific remote villages in Nigeria that could benefit from the distribution of 3.3 million mosquito bed nets.
The EO industry has enjoyed an explosive growth in technological capabilities: From the design of increasingly-advanced satellites, to rapid deployment via new and entrepreneurial launch providers, to an exponential growth in the amount of data collected and transmitted, and now to creative ways to integrate and analyze these data from multiple sources. However, for the true promise of satellite-delivered imagery to be realized, these technical advances still need to be matched to the needs of their audiences. They must take into account the various end-users' ability to easily access and make sense of these data to address their specific commercial and humanitarian missions. Helping governments, NGOs, and the private sector actually act on this intelligence should always be the primary focus of these visionary services providers.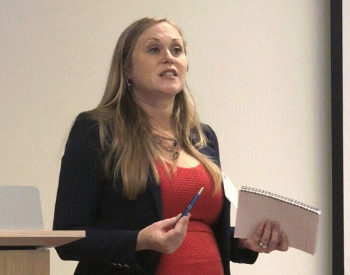 SSPI Mid-Atlantic is proud to provide opportunities for industry, students, and thought leaders to share in the advancement of the space and satellite sectors. This was another fascinating and fun gathering to keep us looking forward as our industries go through rapid changes (and yes, we had plenty of time to watch the Stanley Cup after!).
Please join us for our next panel discussion or social event!
---