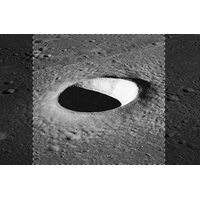 On April 13th, long-time satellite industry veterans welcomed groups of university students pursuing degrees in the space and satellite industry for our Student Scholarship Competition. This annual event exemplifies SSPI's mission to bring together the space industry establishment with the new brilliant minds that will take the aerospace and communications markets to entirely new levels. Our fundraising during the year is specifically for this mission as this event is where we awarded multiple student teams with scholarship funding to help them meet their scholastic goals.

Intelsat served as host for the event at their beautiful Tysons Corner high-rise office.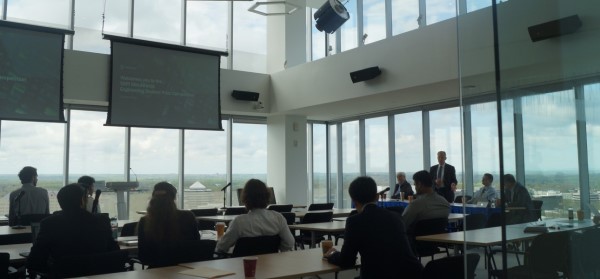 Engineering students from George Washington, University of Maryland, and George Mason presented five different academic engineering projects to a panel of judges. The presenters all displayed an impressive grasp of the science and the applications, and were asked specific questions from the panel of judges. These students also impressed the general audience by making very dense subject matter understandable and intriguing. Judges awarded scholarship prizes to three teams based on specific criteria.

The University of Maryland's Arnand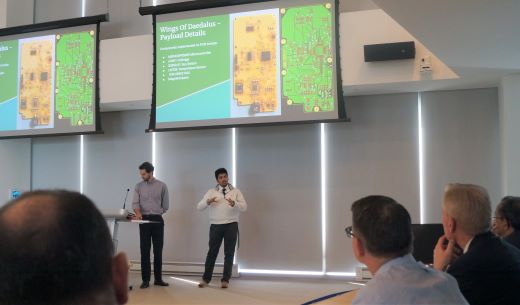 Patel presented his research on "Cohesive Regolith Clump Size Prediction on Airless Bodies" - a topic that seems byzantine from the title, but one that was broken down in a more accessible way for the lay-person. Regolith refers to the dust or other loose material that can cover solid rock on the Moon or an asteroid. Predicting the behavior of how this dusty layer behaves in low gravity, in either clump or fine granular form, can help the design and operation of probes working on these surfaces. Patel even referenced more "Earth-bound" benefits of terrestrial powder handling -- everything from food or pharmaceutical production to coal mining. Arnand was awarded the best presentation in the category of Innovation.

The Best Application of the Scientific Method went to Aaron Poulter-Martinez and Jay Deorukhkar of GMU, for their presentation of GMU's First Two Picosatellites. Their project was to research, design, and develop custom payloads for these picosatellites, as part of Virginia Space's "ThinSat" program. These craft, once launched, will test several technologies developed by the team including a thermal shield, the signal strength ultra-high frequency links, and an attitude control system.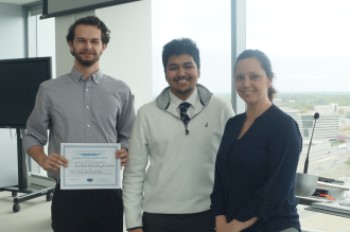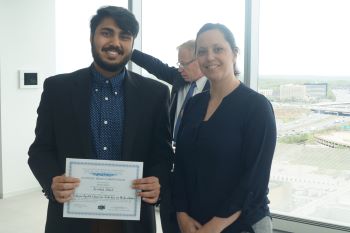 The Most Effective Presentation went to Maryland's Carlos Callejon Hierro for his project "Post-Impact Granular Dilation on Airless Bodies," which studied and detailed new understandings of impact craters and how the lunar surface responds to different types of impacts.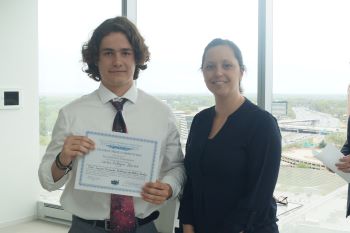 All of the presentations were very well received, and students were able to start networking with potential employers once their studies have been concluded. Tomorrow's leaders are today's students and need the help of industry players like SSPI-MA. And SSPI-MA relies on our members and participants to help make this kind of financial support for the next generation of leaders possible. Thank you for your support.
---