SSPI Mid-Atlantic Regional Chapter (US)
Serves: Delaware, Maryland, Virginia, and West Virginia, and the District of Columbia
The SSPI Mid-Atlantic Chapter boasts an energetic and active chapter, with educational and networking events throughout the year. These events support our scholarship activities, allowing the Chapter to award more than $173,000 to space and satellite related educational programs and area university students over the past 14 years. 
Chapter Financial Overview - Average Income & Expenses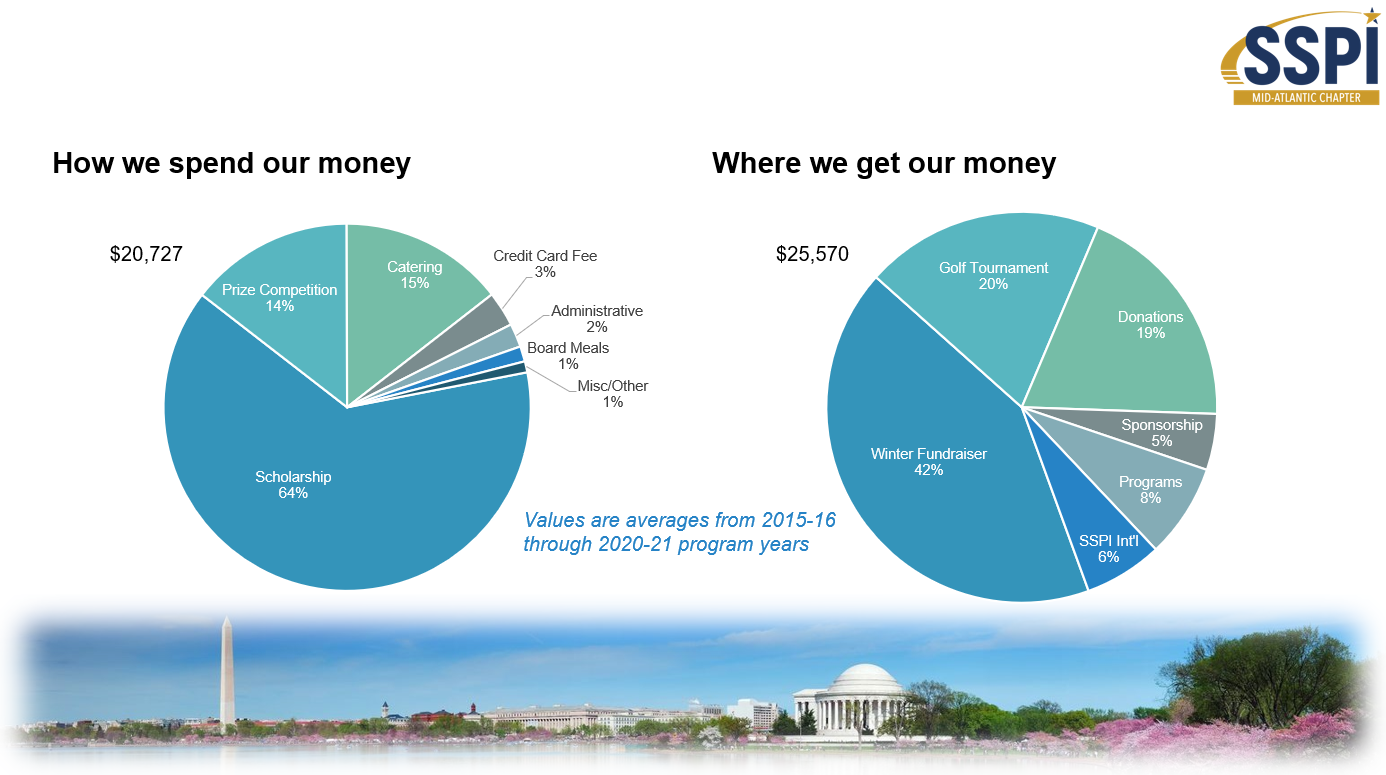 Scholarship Programs
The SSPI Mid-Atlantic Chapter's scholarship program provides grants each year to three Mid-Atlantic area universities to support students pursuing studies space- and satellite-related studies. 
In addition, each spring, the Chapter hosts a student prize competition, modeled after the Pelton Prize and developed in consultation with Dr. Joseph N. Pelton, former Dean of the International Space University and Vice Chairman and Founder of the Arthur C. Clarke Foundation, among many other positions and honors. During the competition, graduate and undergraduate engineering students present their projects to a panel of judges, made up of industry experts, who evaluate the students' projects via Q&A, scoring them on technical, presentation and other criteria to determine the winners in three different categories.
Since 2006, the SSPI Mid-Atlantic Chapter has awarded
More than $23,000 to 30 individuals through our annual student prize competition
$27,000 to 9 individual scholarship recipients
$44,000 through 11 donations to George Mason University
$39,000 through 10 donations to George Washington University
$34,000 through 9 donations to the University of Maryland
$6,000 in special grants to fund school projects related to NASA and experiments on the ISS
2021-2022 Board
Officers:
President (2021-2022): Eileen McGowan, Intelsat
Vice President (2021-2022): Marie-Pierre Pluvinage, Airbus
Secretary (2021-2023): Pat Rayerman, Linquest
Treasurer (2021-2023): Brian Hult, Omnispace
Immediate Past President (2021-2022): Fabien Armogathe, LyteLoop Technologies

Executive Committees:
Scholarship Co-Chairs (2021-2023): Mark Lekowski, JSAT International & Keir Daniels, GWU
Membership Chair (2020-2022): Jing Li, SES
Mentorship Chair (2021-2023): Alena Koci, Inmarsat Government
Programs Chair (2020-2022): Arnie Christianson, Inmarsat Government
Programs Co-Chair (2021-2023): Valvanera Moreno, SES
Publicity Chair (2020-2022): Iban Ibanez Domenech, NASA

Directors:
(2020-2022) Ashley Bander, AIA Aerospace
(2020-2022) Stephanie Bednarek, SpaceX
(2021-2023) Vincenzo Cordaro, SES Government
(2020-2022) Carolyn Cuppernull, SES Government
(2021-2023) Jodi Goldberg, Wiley Rein, LLP
(2020-2022) Amit Katti, SES Government Solutions
(2021-2023) David Kaufman, Amazon
(2020-2022) George Knizewski, CEO Knight Sky LLC
(2020-2022) Britt Lewis, Inmarsat Government
(2020-2022) Justin Park, Intergalacticeducation
(2021-2023) Blake Wiles, LMI Advisors
Counsel to SSPI: Dara Panahy, Milbank
Student Board Observers:
(2021-2022) Jay Deorukhkar, GMU
Support the Chapter
If you would like to donate to support our Chapter, click here:
Online Space Industry Resources