Thank You for Making This Year's Winter Fundraiser a Smashing Success!
On January 24th, more than 100 members and guests joined SSPI Mid-Atlantic for our Annual Winter Fundraiser. We enjoyed delicious food and drink, comradery with our industry friends, and great prize winnings.
Many thanks to SES Government Solutions who hosted the event and co-sponsored with SSL, the Keynote speech SSL, the producers of the new documentary Space Inc. for their address to our guests, to our many many sponsors who donated auction and raffle prizes, and to you for attending! 
We will publish photos soon. We can't wait to see you at our next social event!
Highlights from October CubeSat Event at George Washington University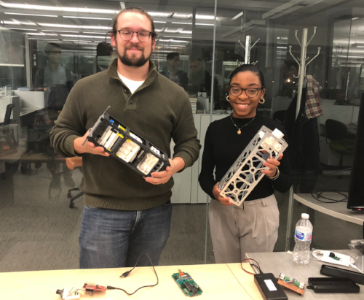 On October 18th, satellite industry professionals and university students gathered at George Washington University's Micropropulsion and Nanotechnology Labratory (MpNL) in Washington DC for a fascinating event on the latest in CubeSat technology.
Click here for photos and details
Welcome to the SSPI Mid-Atlantic Chapter (US)
Serves: Delaware, Maryland, Virginia, and West Virginia, and the District of Columbia
The SSPI Mid-Atlantic Chapter boasts an energetic and active chapter, with educational and networking events throughout the year. These events support our scholarship program and prize competition, which we hold in partnership with the George Washington University, George Mason University and the University of Maryland.
Photos from our Farewell to Summer Happy Hour in Tysons Corner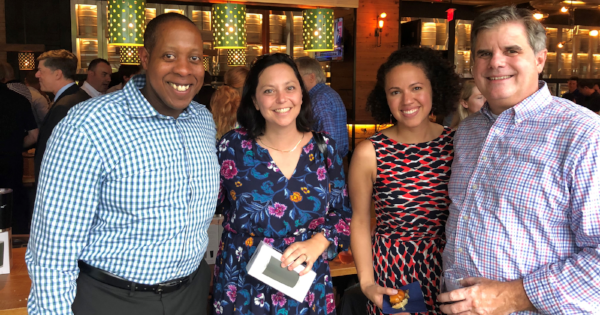 SSPI-MA and SpaceX hosted a fun and delicious after-work networking event at Barrel & Bushel in Tysons Corner. It was a great way to catch up on what everyone did over the Summer. We look forward to the next social event. We hope to see you there!
Please Welcome Our New Board Leadership!
Many thanks to all of you who submitted your names for SSPI Mid-Atlantic Board membership. And thanks also goes to those who placed their votes for the new Board. SSPI-MA is happy to welcome many new members who are ready to bring their unique vantage points and industry expertise to bear. We also have several experienced Board representatives carrying on, some in new leadership roles.
The 2018-2019 Board:
President: Charity Weeden, Lquinox Consulting
Vice-President: Will Gregory, UltiSat
Treasurer: Eileen McGowan, Intelsat
Secretary: Alena Koci, Inmarsat
Scholarships Chair: Rashid Neighbors, SES Government Solutions
Publicity Chair: Brendan Murray, Excelsior Space
Membership Chair: Fabien Armogathe, SES
Programs Co-Chair: Valvanera Moreno, SES 
Programs Co-Chair: Arnie Christianson, SES
Immediate Past President: Billie Sims, Hunter Communications
Directors:
Stephanie Bednarek, SpaceX
Sallye Clark, Mintz Levin
Jodi Goldberg, Echostar
Chris Kinman, SES Government Solutions
Mark Lekowski, JSAT International
Diego Paldao, OneWeb
Dara Panahy, Milbank
Pat Rayermann, Semper-Fortis Solutions
Marie-Pierre Pluvinage, Airbus
Ed Spitler, Artel
Krystal Wilson, Secure World Foundation
On behalf of the new SSPI-MA Board, we all look forward to seeing you all at many events this season!
Online Space Industry Resources